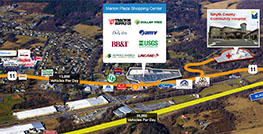 DEVELOPMENT / REDEVELOPMENT
Marion Plaza
115,000 sq. ft.
Shopping Center
Marion, VA
Purchased a 46-year-old, 115,000 square-foot mixed-use retail center for $3.25 million in Marion, VA Anchored by Tractor Supply Co. Dollar Tree, DaVita Dialysis, the Virginia Department of Motor Vehicles, BB&T, and the US Geological Survey, Marion Plaza Shopping Center was 81% occupied at acquisition.
Developed/redeveloped more than 30,000 square feet in and around the asset, in order to execute new leases with Ollie's MedExpress and the United States Department of the interior.
In the process, Peck Properties helped create more than 100 full-time jobs at Marion Plaza Shopping Center to transform it into THE place to work and shop at exit 47 off of Interstate 81 in Virginia.
Within 24 months, Peck Properties increased distributable cash flows from Marion Plaza by 40% and the real estate's fair market value by more than 70%.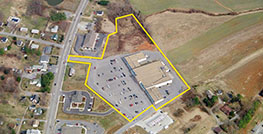 STABILITY AND UPSIDE
Rustburg Marketplace
46,700 sq. ft.
Shopping Center
Rustburg, VA
Formed a partnership of 16 accredited and non-accredited investors, registered with the SEC as a Regulation D offering, to acquire a $3.75 million Food Lion-anchored shopping center in Rustburg, VA.
Executed new leases with Commonwealth of Virginia Alcoholic Beverage Control (ABC) and Dominos Pizza that filled Rustburg Marketplace Shopping Center to 100% occupancy and increased cash-on-cash returns to investors form 9-12%.
Goal to sell asset based on a higher net operating income. Increased NOI will come from developing investor owned usable acreage at the center and by gradually raising below-market rents to make rates.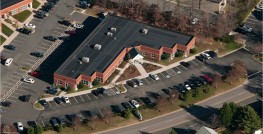 ADAPTIVE RE-USE
Mayland Medical Office
13,300 sq. ft.
Medical Office Building
Richmond, VA
Partnered with a prominent medical practice to design a real estate investment that would accomplish:
Growth from 3 physicians to 7 within one building.
A system whereby physicians could sell/buy ownership in property without changing management.
Rent control for the physicians while increasing asset value for investors.
Peck Properties acquired and redeveloped a 13,000 square-foot building that generated in-place rental income from one-third of the building on a multi-year lease.
During Phase 2 of construction, Peck Properties negotiated a reset of the loan interest rate from 6.25% to 3.95% and secured a second, 5-year loan that enabled the practice to expand into the remainder of the building.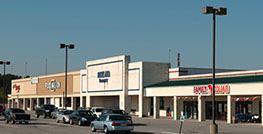 SECURITIZED FINANCING / LOAN ASSUMPTION
Emporia Marketplace
79,070 sq. ft.
Shopping Center
Emporia, VA
Acquired a $5 million Food Lion, Rite Aid, Family Dollar and Peebles-anchored neighborhood shopping center in Emporia, Virgina by agreeing to assume a $4.25 million CMBS (commercial mortgage-backed Security) loan with J.P. Morgan Chase. The CMBS loan approval process required a 4-month-long review period by the lender's Special Servicer.
As general partner, Peck Properties negotiated new leases with Food Lion, Peebles, Dominos, Family Dollar, Hibbett Sports, and Rite Aid, while also redeveloping 13,150 square feet to add three new leases, improving the net operating income for the center since acquisition.
At the expiration of the original CMBS loan. Peck Properties negotiated a new $4.175 million CMBS loan with Citigroup that locked in a fixed interest rate for 10 years.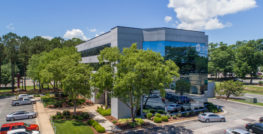 ACQUISITION
Union Bank Building
34,704 sq. ft.
Office Building
Newport News, VA
Sourced, underwrote and negotiated $3.4 million acquisition of the four-story HQ on Hampton Roads Peninsula for the $8 billion dollar Union Bank.
100% leased building enjoys strong visibility and accessibility at the main entrance to preeminent office/retail development in Newport News, Virginia and generated cash-on-cash returns of 8-10%.
Peck Properties conservatively underwrote the opportunity so that investors would start operations with over $400,000 in cash reserves to mitigate contingencies such as future functional obsolescence of building systems, future tenant improvements, and leasing commissions.
Goal to increase below-market rents to market rates and sell for a premium based on higher net operating income.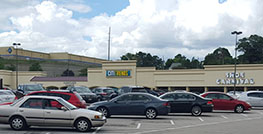 VALUE CREATION
Riverside Center
170,000 sq. ft.
Shopping Center
Danville, VA
Sourced, underwrote and arranged equity and debt to acquire Riverside Centre, a 180,000 square-foot mixed-use retail shopping center in Danville, Virginia for $5.6 million that was 48% occupied by publically traded companies: Planet Fitness, Wells Fargo, Shoe Carnival, and Citi Trends.
During due diligence, interviewed all existing tents to ascertain that the asset is well located, easily accessible, and promised many leasing opportunities at its high visibility, high traffic location.
Based on in-place income, the asset generated cash-on-cash returns for the investors of 12%.
Goal to increase occupancy to 80% within 5 years. Within the first 20 months, Peck Properties has already executed 5 new leases and increased occupancy by 8%.